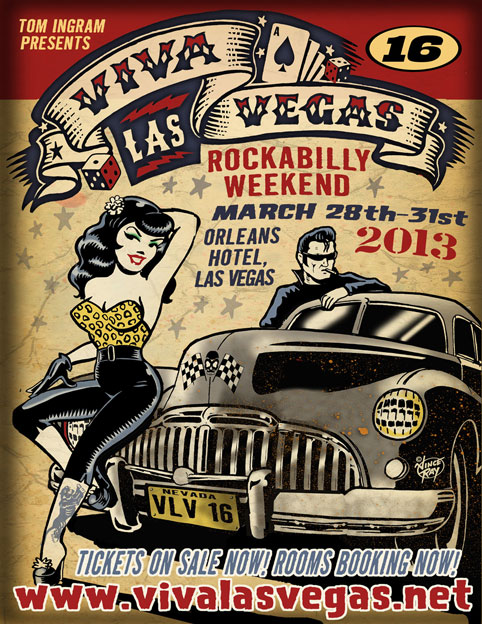 Guess who has 2 thumbs and gets to miss out on
Viva Las Vegas
[aka: VLV]
this year!?!? This girl does. Boo! Hiss! It was our choice, though. Derek and I had made plans to go to the Lonestar Roundup in Austin, TX instead. So, we didn't bother with reserving a hotel room for VLV. And now those plans changed, also. Instead, we're moving into our new townhouse right around the same time of both events. Le sigh. I am bummed, as this year was going to be a new year to really go all out and try to make an impression. Oh well, moving on with this VLV post to why I am writing it to begin with. Which is...packing.
Now, let's begin. I hate packing for anything. I am a list writer and I rewrite lists like crazy. This won't go with that, so scratch this off the list. Uhg. And so on. But it's how I am. And I pack days in advance. Not. I usually pack the night before, going by my list. And the thing is, I never go by what my list says. I usually just wing it, because I can't remember what it was I supposed to wear what with. But here are a couple of ideas for each part of the day. Now remember, these are jsut my ideas, not something that is mandatory.
LATE NIGHT SOCK HOP:
Now don't get me wrong, I'm a fan of jeans. I wear them often. But for VLV I would leave the ol' regular Levi blue jeans at home or just wear to drive/fly in. But high waisted jeans are super cute for a late night sock hop with the DJs. Pair them with some saddle shoes or flats and a cute top and you're ready to dance the rest of the night away. A few reputable places for reproduction high waisted jeans at
Freddie's of Pinewood
and
Nicole Katherine Designs
.
Vintage inspired high waisted jeans. This girlie is as cute as button in her outfit. I love everything about it. Source
I really like the look of cigarette pants for at night. But certain cigarette plants go with certain times of day. Cotton cigarette pants are cute for the daytime and gold lurex lame cigarette pants are great to shimmy on down to during the night. These styles are hard to come by, so you really have pay close attention when you come across some. A good place to locate is on
Etsy
.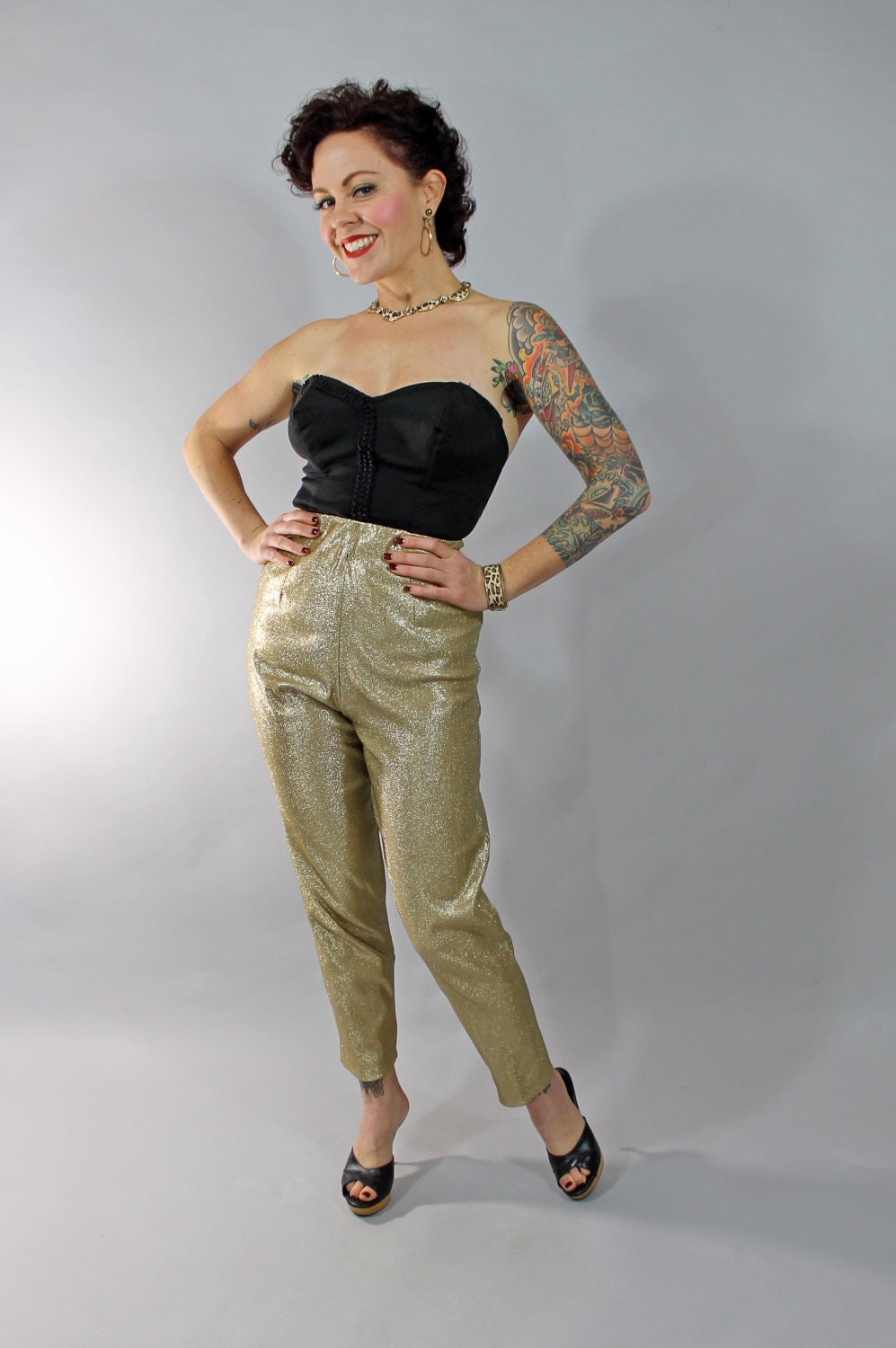 Her entire outfit is adorable, from head to toes. Source
DAYTIME/CARSHOW
: Even though, I should have known better, it wasn't until recently that I truly learned the difference between day dresses and night dresses. I know. I know. I should have know. And the thing is, I did know without really even realizing it. I personally have a closet full of daytime cotton dresses that hardly ever see daylight, because I won't wear them to work
(even I think I should)
. But light knit or cotton dresses are ideal for the hot Las Vegas sun. And the options are endless.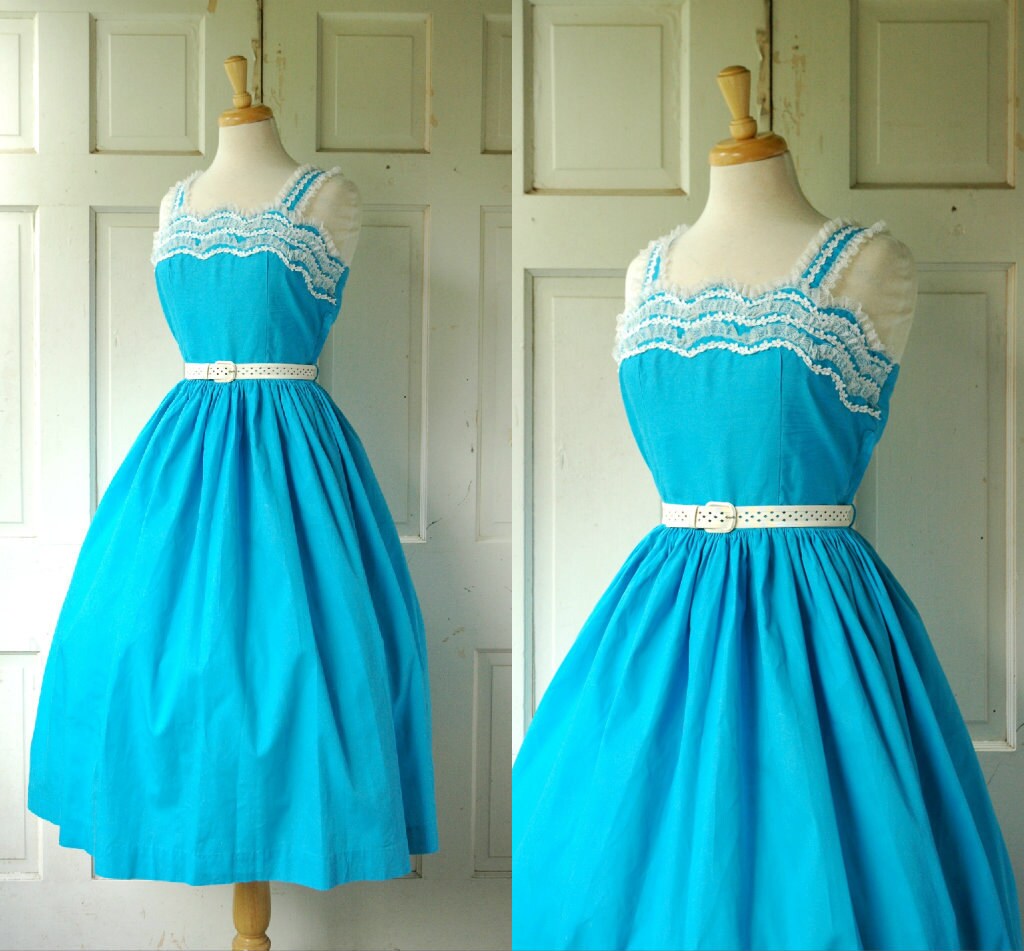 I love the color. I love the white lacy trim. I love everything about this daytime sun dress. Source
Another cute idea for daytime to stay cool is a playsuit. Playsuits were popular in the 1940's and have managed to bypass the every era and make it's way back into the scene. I think a tasteful playsuit will make a great daytime, carshow outfit if paired with a cute pair of espadrilless and a couple of your favorite bakelite bangles.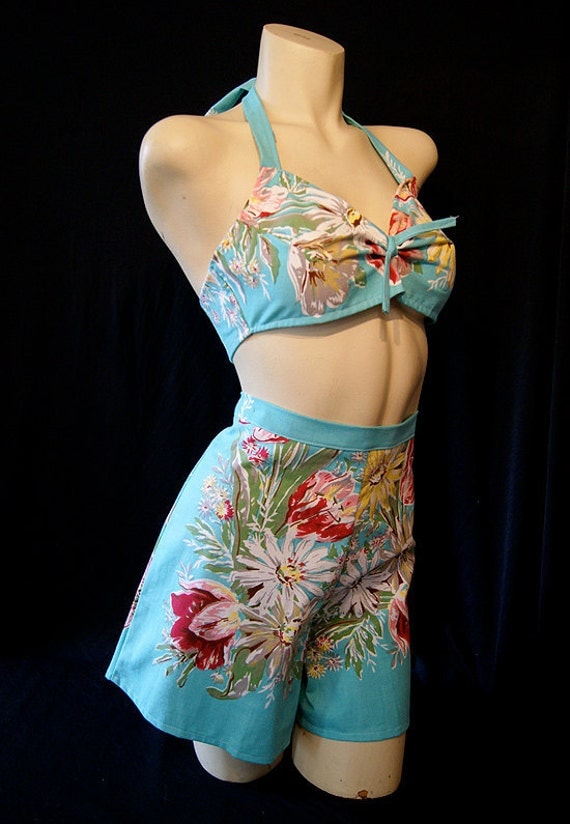 This is definitely one of my most favorite playsuits I've seen in a long tme. It's gorgeous! And was sold by a San Diego favorite, Wear It Again Sam. Source
EVENING WEAR
: Personally, I'm not a fan of getting all decked out. In my opinion, its going a bit overboard. I do think it's pretty, but just not for this occasion. Leave the furs and floor length dresses at home, ladies. But I think that a lovely vintage dress with a full crinoline would perfect. And very pretty.

So pretty. And the material looks devine. Source
To die for. Everything is so well put together and thought out. And she has a smile that goes for miles. Source
Well, I hope you enjoyed my thoughts on Viva wear. And I will be doing more preppin' for VLV posts soon. Such as accesories to bring, ideas on how to do your hair, where to go while you're in Las Vegas, and tips on how to pack it all without a hitch. So, keep an eye out for them!
Also, here is a short video of our impromptu jaunt out to VLV last year. We decided to 2 days before when I got a call from the Orleans saying that we had a room waiting for us. Enjoy!

Until next time, lovelies!
Miss Hell